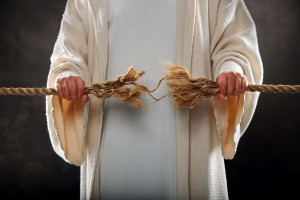 The Quiet Holocaust in the Church : Losing Salvation
( 12 / 9 / 17  Coming soon : New post about explicit dynamics of unforgivable sin ! )  Greetings all.  Having crossed the line with one foot only and survived, this blog relates what I have learned about the issue of losing salvation .  To educate the misinformed and offer hope to those in dire trouble, but still restorable as I was .  I have more than hypothesis or theory .  I have the experience of months of horror far beyond white – knuckled . We are in the time that the apostle Timothy spoke of in 2 Tim 4: 3 – 4 , when some will not endure sound doctrine , but turn from the truth unto fables . Some of these are the doctrine of once saved, always saved or eternal security ,   ( OSAS ) , as well as hyper grace notions like Future Sins Automatically Forgiven ( FSAF ) .  I will be examining scripture, but also speaking from my own near – fatal experience .  Featured are three successive, unfolding dreams the Lord gave me regarding Christians losing salvation forever . This is talking about far more than back sliding here .  It is necessary to expose the trap of the enemy , which some stumble into ignorantly .  I wish to help our Beloved Father keep more of His children, and to offer strategies to guard against becoming lost again forever .  Some of this will be powerfully devotional !  I can offer hope from  my own story of restoration .  God is no respecter of persons . Others can be restored ;  God knows who .  So have faith , for salvation has always been by grace through faith .  But know this :  Nobody who advocates OSAS could possibly go where I have been and continue the error of that doctrine .  I came within a millimeter of totally losing all forever .  I learned things in that place . That killing sin always forces God to demonstrate that He cannot deny Himself . It's time to warn my brothers and sisters .  And time is very short .  It is already too late for some .  It is sure that the Great Falling Away will happen ; but NOTHING in my bible tells me that it cannot be mitigated, pared , and reduced !
Contact Information :
I am now ordained in teaching ministry and released to speak as the Spirit may direct ; subject to reasonable scheduling and travel constraints . Churches / Pastors contact me at :  flameout4ever@lossofsalvation.com
Let's get busy plugging the horrific hole in the back of the church .  The hour is desperately late ; the losses are breath – taking .  Warn, educate, alert, edify, and fortify the saints .  Amen .
Continue reading "Losing Salvation : Discern the Burn" →