UPDATED !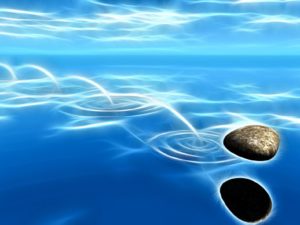 Today I continue the contrast of OSAS / Once Saved, Always Saved / eternal security with the scriptural truth of Conditional Security dependent upon responsible exercise of free will .  This post likely to be expanded and refined, perhaps with a " Part Two . "
We begin with 1 Peter 2 : 1 – 5 :
The Living Stone and the Holy Nation
  " Therefore put away all wickedness, deceit, hypocrisy, envy, and all evil speaking. 2 As newborn babies, desire the pure milk of the word, that by it you may grow, 3 if it is true that you have experienced that the Lord is good.
4 Coming to Him as to a living stone who is rejected by men, but chosen by God and precious, 5 you also, as living stones, are being built up into a spiritual house as a holy priesthood to offer up spiritual sacrifices that are acceptable to God through Jesus Christ. "
—————————————————————————————————————————————
I was an ignorant and offended , double – minded type of living stone .  Four months of horror with one leg thrown over the figurative rim of hell fixed all of that for me !  And it gave me the motivation to protect my brothers and sisters , preserve my Father's children , and dig in scripture as never before , keen to pick up on what God was showing me …  that common OSAS rationales simply do not address the issue of Hamartiology – study of sin –  that accounts for Saints losing salvation .  Hard to know for living stones that keep skimming the surface of the Word ; or those motivated NOT  to see ; deceived by false doctrine, inattentive , un – circumspect or not balancing the whole counsel of God.
As for me ,  I mostly liked to study Bible prophecy .  Like candy .  When are we getting out of here , Lord ?   So, let's take a look at some major OSAS candy .  But with proper digestion, circumspectly balancing the whole counsel of God .  That's how to enjoy some biblical sweets the safe way !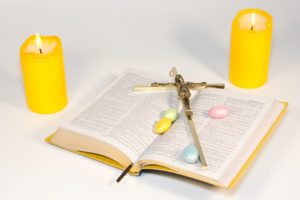 Don't you just LOVE the positive scriptures that give assurance of salvation ?  I sure do . They say that Christ is Faithful .  Certainly, He is more faithful than ANY man or woman !  Let's look at this :
John 10:27-29
King James Version (KJV)
27 My sheep hear my voice, and I know them, and they follow me:
28 And I give unto them eternal life; and they shall never perish, neither shall any man pluck them out of my hand.
29 My Father, which gave them me, is greater than all; and no man is able to pluck them out of my Father's hand. 30 I and my Father are one.
What a wonderful scripture .  And one that was never meant to portray the entire Christian life experience .  For , sin is not mentioned here , not even the existence of sin .  As such , this is an ideal. There are types  of sheep !  Bereans vs. Thessalonicans !  ( Acts 17:11 )  Remember that Jesus would heal people , then tell them to go and sin no more !  ( John 5:14 )  Do you really think any of them NEVER sinned again ?   Paul makes it clear in Romans 7 that he had his own struggles with unwillful sin !  And Hebrews 10: 26 – 31 talks of willful ( continuum of defiance ) sin !  The book of Hebrews was written to ALL Hebrews , some of whom were Christian at the time it was written ! Remember that many Hebrews as well as a GREAT COMPANY of the priests had converted !  ( Acts 6 : 7 )
Consider 1 John 1: 8 – 10
8 If we say that we have no sin, we deceive ourselves, and the truth is not in us. 9 If we confess our sins, He is faithful and just to forgive us our sins and cleanse us from all unrighteousness. 10 If we say that we have not sinned, we make Him a liar and His word is not in us.
OSAS Proponents Must Look More Closely at Types of Sin
Indeed , the sheep portrayed in John 10: 27 – 29  are always abiding in Christ to the exclusion of any form of sin ; even the existence of sin is not mentioned !  No shadow of turning is shown here !  No hint of apostasy or falling away !  For these sheep have never committed worse than sin NOT unto death as in 1 John 5 : 16 !   The Blood can ONLY cleanse sin NOT unto death for the Christian , and / or  Unwillful sin as in Rom 7 : 20 !  Of course, all sin is unto death for those who reject Christ their whole lives .
Is it surprising to ANY of us Christians that these sheep are retained by God and go to heaven ?  No ! God is FAITHFUL !  But see that Christ Himself has built a condition and a prerequisite into this scripture !  These sheep willfully FOLLOW Christ !  In fact , nothing of wandering from the truth (Christ )  is portrayed !  See James 5: 19 – 20 .  OSAS is only defeated by the will of the individual Saint ; those who willfully reject Christ , die in willful unforgiveness , or blaspheme the Spirit .
You see , it is not a matter of anyone being strong enough to pluck these sheep from the Lord's hand ;  of course nobody else is THAT strong , to win a contest of strength with God .  Irrelevant to the loss of salvation dynamic .
But , individual sheep ARE strong enough to willfully profane The Blood by several possible means as shown in this blog .  And to do so from the heart .  To put Jesus down . To forsake Him and in so doing , to make Him …  and His Blood … lower than the blood of a sinner . To make The Blood not even good enough to be as good as sinful blood .  To make as though vile the very medium of exchange that purchases his soul out of fire  .  And by extension, to profane what the Blood would have bought for him ; that being the indwelling agency of the Holy Spirit of God .  They find out that killing sin ALWAYS forces God to demonstrate that He cannot deny Himself !  God cannot be less than Holy .  God cannot be less than True . He MUST judge or else adopt a lie !  He isn't being mean ; He is being God .
It is one thing for God to willingly lower Himself to become the servant of all on the cross , by Divine Prerogative ; He kept His Identity and Character .  He did not profane His own Character .  Nor did Jesus take His heart from The Father , even in the belly of the earth !
It is quite different for a sinful creature to make God lower than himself , lower than sin , as the Saint who returns to the pollutions of the world to the degree of being OVERCOME .  We see this in 2 Pet 2 : 18 – 22 .  Entangled means merely backslidden .  To be entangled AND overcome means to be lost again, vanquished ,  irredeemable .  This one has from the heart forsaken Christ … and His Blood …  to make sin higher and preferable , AFTER having been washed in The Blood !  This turns OSAS on its head .
This is killing sin . Defiant . Willful . God cannot cleanse sin when The Blood has been despised and profaned ;  if The Blood is not good enough for someone …
Others simply stop believing in Christ and suffer ship wreck of their faith as in 1 Tim 1 : 19 , perhaps after some major life trauma or loss .  Some may carry defiant unforgiveness beyond the grave . Others may blaspheme directly to put Jesus down , or to blaspheme the Spirit of God . See Hebrews 10 : 29 .  Without faith , it is impossible to please God , as shown in Hebrews 11: 6 .  Any total rejection of Christ from the heart is killing sin for the Saint who turns away from Him .
Saint of God , understand that if God were just to forgive this anyway , then He would have to agree with a lie ;  God clearly cannot agree with one who makes Him lower than a creature , especially not lower than a SINFUL creature !  That would make The Blood of Christ less than the blood of a sinner. Clearly , God cannot give creedence to a lie , to come into league with falsehood .  God can NEVER sin .  The Bible says that the soul that sinneth , it shall die . ( Eze 18: 20 ) .  God's soul shall NOT die ! You see , God has done all the dying He ever COULD do for us .  And so , we are SCARCELY saved as in 1 Pet 4 : 18 !  All the more so as no possibility of sin NOT unto death was in Eden or ever in heaven !  But we are in probationary status as long as in corrupt mortal flesh !
This is why God cannot forgive unforgivable , killing sin .  The Blood of Christ has no remedy for this caliber of sin , that makes profane … The Blood !   The only answer for this type of sin is the Wrath of God .  Remember , without cleansing there is NO forgiveness !
That is why the Apostle John says in 1 John 5: 16 the following :
16 If any man see his brother sin a sin which is not unto death, he shall ask, and he shall give him life for them that sin not unto death. There is a sin unto death: I do not say that he shall pray for it.
Notice several things :  Not only is John saying to BROTHERS it would be a waste of time to pray about sin unto death , but that the Bible does NOT say that life is ever given for sin unto death , regardless of prayer or  not !  Sometimes, it is just as important to see what the Bible does NOT say !   For the life being dealt in the first part of the verse is eternal life :  after all , sin NOT unto death would not have killed this brother physically .  He was not being raised from the dead !  So then , the death mentioned is likewise eternal and not just physical . And John would NEVER discourage the lost from praying to God to get honest about their sin !  That would nullify the Great Commission  !  This passage is for Saints ONLY , and looking forward through eternity !
Let's look at another favorite OSAS scripture :
Romans 8:35-39
King James Version (KJV)
35 Who shall separate us from the love of Christ? shall tribulation, or distress, or persecution, or famine, or nakedness, or peril, or sword?
36 As it is written, For thy sake we are killed all the day long; we are accounted as sheep for the slaughter.
37 Nay, in all these things we are more than conquerors through him that loved us.
38 For I am persuaded, that neither death, nor life, nor angels, nor principalities, nor powers, nor things present, nor things to come,
39 Nor height, nor depth, nor any other creature, shall be able to separate us from the love of God, which is in Christ Jesus our Lord.
This is another wonderful scripture for the abiding Saint of God if that Saint always avoids commission of killing sin .  And like John 10 : 27 – 29 , it does not mention even the possibility of sin in the life of the Christian .  As such , this scripture is clearly NOT meant to define the entire Christian experience for the same reasons as given above .  For God did not create sin !
Consider also :
John 6:37-40
King James Version (KJV)
37 All that the Father giveth me shall come to me; and him that cometh to me I will in no wise cast out.
38 For I came down from heaven, not to do mine own will, but the will of him that sent me.
39 And this is the Father's will which hath sent me, that of all which he hath given me I should lose nothing, but should raise it up again at the last day.
40 And this is the will of him that sent me, that every one which seeth the Son, and believeth on him, may have everlasting life: and I will raise him up at the last day.
Indeed .  We are glad it is not God's will to lose a child !  But , this is another passage that does not even mention the possibility of sin in the Christian's life !  And we have our own God – given , free wills !   Because we have free wills , Christ commands the following :
John 15:4
King James Version (KJV)
4 Abide in me, and I in you. As the branch cannot bear fruit of itself, except it abide in the vine; no more can ye, except ye abide in me.
And :
John 15:9
King James Version (KJV)
9 As the Father hath loved me, so have I loved you: continue ye in my love.
We are to willfully abide in Christ, and remain in His love !  A great reason to avoid the willful sin of Hebrews 10: 26 – 31 !  Then we make our OWN OSAS / Eternal Security … by continuous,  deliberate fidelity to God !
In the last analysis, scriptures that assure salvation must be balanced with scriptures that warn of the loss of salvation ;  the balance point is the God – given , free human will .  For we are made in the image of God, who has a free will . Free like God to choose AGAINST sin !  However , we will reap what we sow .  And death and life are in the power of the tongue for a people who are sometimes destroyed for a lack of knowledge .  So, we must willfully make our calling and election sure while refusing to sow killing sin .
2 Peter 1 : 10 – 11
10 Wherefore the rather, brethren, give diligence to make your calling and election sure: for if ye do these things, ye shall never fall:
11 For so an entrance shall be ministered unto you abundantly into the everlasting kingdom of our Lord and Saviour Jesus Christ.
And :
1 Timothy 4:16
King James Version (KJV)
16 Take heed unto thyself, and unto the doctrine; continue in them: for in doing this thou shalt both save thyself, and them that hear thee.
It is useless for some to assert that sin can curtail fellowship , but not relationship , when the question is really about a Saint who destroys his access to The Blood and the applicability of The Blood to himself .  Killing sin that profanes the blood renders OSAS arguments moot and irrelevant . Hamartiology must be understood before trying to solve the controversy of soteriology !  Those who assert that the idea of conditional security entails salvation by works are over – reaching ;  it is rather that we have responsibility in the kingdom to take reasonable , loving care for the goodly gift we were given .  If Adam was to tend the garden in Gen 2:15 , even before He fell , are we less responsible to care for the garden ( Heb 6: 7 )  of our own salvation enough to avoid killing sin ? Please see various other blog posts to explore this further .
.