There is an OSAS  ( Once Saved , Always Saved )  rendering of the allegory of the Vine and the branches that could just as easily come straight from the serpent's mouth .  Lie begets lie !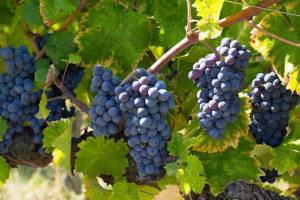 What kind of Satanic poison can we find in this false rendering when we shine the Word of God through it ?  Are there any inclusions in this devilish gem ! ?  You better believe it !!!
First , let us read the passage from John chapter 15 : 1-14
Jesus the True Vine
15 "I am the true vine, and My Father is the vinedresser. 2 Every branch in Me that bears no fruit, He takes away. And every branch that bears fruit, He prunes, that it may bear more fruit. 3 You are already clean through the word which I have spoken to you. 4 Remain in Me, as I also remain in you. As the branch cannot bear fruit by itself, unless it remains in the vine, neither can you, unless you remain in Me.
5 "I am the vine, you are the branches. He who remains in Me, and I in him, bears much fruit. For without Me you can do nothing. 6 If a man does not remain in Me, he is thrown out as a branch and withers. And they gather them and throw them into the fire, and they are burned. 7 If you remain in Me, and My words remain in you, you will ask whatever you desire, and it shall be done for you. 8 My Father is glorified by this, that you bear much fruit; so you will be My disciples.
9 "As the Father loved Me, I also loved you. Remain in My love. 10 If you keep My commandments, you will remain in My love, even as I have kept My Father's commandments and remain in His love. 11 I have spoken these things to you, that My joy may remain in you, and that your joy may be full. 12 This is My commandment: that you love one another, as I have loved you. 13 Greater love has no man than this: that a man lay down his life for his friends. 14 You are My friends if you do whatever I command you.
Jesus says , " Every branch  IN ME " ,  V. 2 .  There is NO question that this is a Christian , to the exclusion of the non – christian, for we have 1 John 1 : 5 :
1 John 1:5
King James Version (KJV)
5 This then is the message which we have heard of him, and declare unto you, that God is light, and in him is no darkness at all.
And 2 Cor 6: 14 – 16 :
2 Corinthians 6:14-16
King James Version (KJV)
14 Be ye not unequally yoked together with unbelievers: for what fellowship hath righteousness with unrighteousness? and what communion hath light with darkness?
15 And what concord hath Christ with Belial? or what part hath he that believeth with an infidel?
16 And what agreement hath the temple of God with idols? for ye are the temple of the living God; as God hath said, I will dwell in them, and walk in them; and I will be their God, and they shall be my people.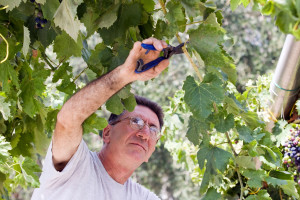 Do you notice the fruitless branch up in the air , being pruned by the worker above ?
Some proponents of OSAS make error at verse 2 in the allegory where the KJV says " takes away " ; other versions may read " cuts off " .  The Greek word there is " Airo " in the English alphabet ; it is easily viewable in the Mounce reverse interlinear Greek New Testament on www.biblegateway.com . Clicking on the Greek word will give a window with the definition(s) .  You may need to scroll way down to see it . Mounce gives the definition of " Airo " as : " To take up , lift , raise , bear , carry , take away , remove , destroy , kill . "
So , which definition(s) do many proponents of OSAS like to use ?  The one(s) with the MOST ear – tickling potential , of course !   Some of them claim that the fruitless branch is fruitless because it is touching the ground ; that Jesus then bears up or lifts up this fruitless branch so it can be fruitful again !  Sugary sweetness tickling my ears !
Saints , this is spoor of Satan insidiously deposited in the church .  Now let's substantiate that remark .
The text continues , and reveals that the fruitless branch is thrown OUT ( Greek : EXO as in           " exoskeleton " ) , and into fire .  This poses a problem for the false doctrinaires , as it means that in THEIR version , the fruitless branch is still in union with the TRUE VINE JESUS .  So , does anyone want to tell me WHERE in the bible that Jesus is consigned to fire ?  And what about the fruitful branches attached to The Vine ?  Nowhere .
And another thing . The fruitless branch withers . But , if he is still attached to Jesus the Vine , as many OSAS purveyors claim , then is this fruitless branch being poisoned by Christ ?  Do branches only become fruitless because Christ poisons His own , withering them  ?  Didn't Christ say that abiding branches bear MUCH fruit ?  Or does regeneration wither a saint ?
At this point , I hear a voice from Genesis 3:1 , sowing confusion :
Now the serpent was more subtil than any beast of the field which the Lord God had made. And he said unto the woman, Yea, hath God said, Ye shall not eat of every tree of the garden?
A lying spirit , the father of lies , has established a stronghold in much of the church ; an imagination that exalts itself against the knowledge of God ( 2 Cor 10: 3 – 5 ) .
There's more . Naturally , the telling of one lie often necessitates another lie to cover up the first lie !
So , now the false doctrinaires must explain away or allegorize the fire !    Some of them claim that if a christian stops attending church and gets in the world , that people in the world will throw them in the fire , " so to speak ."  As though it is only earthly social rejection !
The real necessity here is to get hamartiology straight before trying to answer the grand controversy of soteriology .
Hamartiology . The study of sin .  Soteriology . The study of salvation .  After all , sin came first , before the need for salvation .  Right ?
What , exactly, does FRUITLESS mean to the christian ?
That which God MOST wants from the Christian is their HEART .  He is a heart GOD !  We see this in the Great Commandment spoken by Jesus Himself in Matt 22: 35 – 40 :
35 Then one of them, which was a lawyer, asked him a question, tempting him, and saying,
36 Master, which is the great commandment in the law?
37 Jesus said unto him, Thou shalt love the Lord thy God with all thy heart, and with all thy soul, and with all thy mind.
38 This is the first and great commandment.
39 And the second is like unto it, Thou shalt love thy neighbour as thyself.
40 On these two commandments hang all the law and the prophets.
James calls it the Royal Law in James 2:8 .  Peter calls it The Holy Commandment in 2 Pet 2 : 20 – 21 :
20 For if after they have escaped the pollutions of the world through the knowledge of the Lord and Saviour Jesus Christ, they are again entangled therein, and overcome, the latter end is worse with them than the beginning.
21 For it had been better for them not to have known the way of righteousness, than, after they have known it, to turn from the holy commandment delivered unto them.
And so , dear brothers and sisters , the fruitless branch has NO FRUIT , no ,  NO HEART FOR GOD ! This saint has forsaken Christ one of several possible ways , most commonly by giving his heart to sin again , choosing sin to SUPPLANT the Lord Jesus Christ in his heart , thereby FORSAKING and REJECTING Jesus !  Making The Blood lower than sin !  This one has profaned The Blood from the heart ( Heb 10 ) .
Here is the REALLY Satanic part of OSAS :
It is the direct implication that sin – even killing sin unto death –  does not separate between man and God !  Asserting that the fruitless branch is not cut off and taken away !  Oh, wouldn't Satan and his demons LOVE that !  Let us look at Is 59:2 :
Isaiah 59:2
King James Version (KJV)
2 But your iniquities have separated between you and your God, and your sins have hid his face from you, that he will not hear.
Yes , sin separates !  And the fruitless branch has sinned UNTO DEATH ( 1 John 5 : 16 ) and is Taken away . Removed . The PROPER sense of the Greek word " AIRO " for this allegory .
1 John 5:16
King James Version (KJV)
16 If any man see his brother sin a sin which is not unto death, he shall ask, and he shall give him life for them that sin not unto death. There is a sin unto death: I do not say that he shall pray for it.
As I have blogged , the life given here is eternal life in the first part of the verse ; for the brother sinning NOT unto death is NOT being raised from the dead !  Thus , eternity is in view here , the bible is consistent ; sin unto death is eternal death . The brother MUST be Christian due to  2 Cor 6: 14 – 16 . It does NO good to pray about one LOST AGAIN and IRREDEEMABLE , WORSE  than the beginning in 2 Pet 2:20  when they were lost initially before receiving Christ , but still redeemable !
See , 1 John 5:16 is not about the lost ; the lost are NEVER advised not to pray for salvation !
Those who assert that God directs and compels the human will to force a Saint's fidelity need be reminded that we are made in God's image .  Who then , is above God to compel HIS will ?  These same people assert that God also predestines the wicked for hell .   And , since the O.T. likens sin to whoredom , What would THAT make one who compels sin !!!???  Let us NOT blaspheme God !
The fruitless branch is an ex – christian who committed , from the heart , killing sin . Sin unto death , presumptuous sin reproaching the Lord .  Some call it high – handed sin .  They have allowed Satan to entice or deceive or goad and torment them into DIVESTING THEMSELVES of their own salvation . That is the only way it can happen !  Putting God down , forcing God to demonstrate that He cannot agree with being lower than sin , that He cannot deny Himself .  Burning necessarily follows .
Saints , we must work against the false doctrine of the OSAS , eternal security heresy .  Such deception gives Satan cover and concealment to easily target deceived , ignorant Saints in positions of vulnerability .  Let's shine the light and burn away the fog of war for our family of faith , to leave the enemy exposed !  Please see other blog posts at www.losingsalvation.com for more details ! And please spread widely through social media and other means !  You will pull a Saint at risk back from fire , somewhere down the line !
Recommended : My other blog post " The Irrelevance of Common OSAS Rationales ."
.