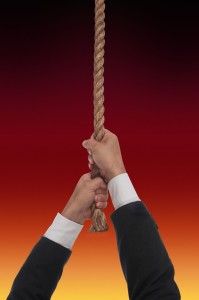 UPDATED ONCE MORE !
For those Christians who believe that losing salvation is impossible , consider this :  If a Christian cannot use their free will to quit their faith , then remaining a Christian is compulsory upon conversion . The free will would cease to exist .  If that is so, then how can one be accountable for any sin ?  There are even Christians who believe that they can no longer really sin .  They point to the following scripture :
Rom 7: 18 – 20
18 For I know that in me (that is, in my flesh) nothing good dwells; for to will is present with me, but how to perform what is good I do not find. 19 For the good that I will to do, I do not do; but the evil I will not to do, that I practice. 20 Now if I do what I will not to do, it is no longer I who do it, but sin that dwells in me.
At issue here is the division between spirit and soul .  Your core identity is the spirit , but the soul is comprised of mind, will, and emotions .  For the born – again Christian , sin no longer typically arises from the level of the spirit .  But consider the following :
Heb 10: 26 – 31
26 For if we sin willfully after we have received the knowledge of the truth, there no longer remains a sacrifice for sins, 27 but a certain fearful expectation of judgment, and fiery indignation which will devour the adversaries. 28 Anyone who has rejected Moses' law dies without mercy on the testimony of two or three witnesses. 29 Of how much worse punishment, do you suppose, will he be thought worthy who has trampled the Son of God underfoot, counted the blood of the covenant by which he was sanctified a common thing, and insulted the Spirit of grace? 30 For we know Him who said, "Vengeance is Mine, I will repay," says the Lord. And again, "The Lord will judge His people." 31 It is a fearful thing to fall into the hands of the living God.
So, willful ( defiant ) sin is possible after salvation .  At issue is " we ."  Christians . Those sanctified ! The will is part of the soul . Christians do not lose free will upon conversion .  It follows that there is a level of sin that is killing sin .  Sin that destroys salvation .  Sin far beyond common back sliding , in which the foolish Christian can kill his own spirit, causing it to become sinful and fallen once more. The fearful expectation of judgment is not someone who never had the indwelling Holy Spirit !  But one who knows what he has lost . Destroying the Seal of the Spirit for himself .  The Apostle John says it like this :
1 John 5: 16 – 17
16 If anyone sees his brother sinning a sin which does not lead to death, he will ask, and He will give him life for those who commit sin not leading to death. There is sin leading to death. I do not say that he should pray about that. 17 All unrighteousness is sin, and there is sin not leading to death.
Why does it say that  " He "  ( God )  shall give him life instead of forgiveness ?  Is this brother being raised from the dead ?  No, for his sin is NOT unto death .  But the point of forgiveness is life eternal for the Christian .  So, eternity is in view in mentioning life .  The mention of sin leading to death that follows , therefore, is also eternal , not just physical . And the passage does NOT say that God EVER gives life for a Christian's sin unto death !  The Christian who sins leading to death has destroyed his salvation . Beyond this point , prayer cannot help him any more than prayer could help Satan . Both are irredeemable .  This person dies the second death , losing salvation .  We are told in James 5  how we should pray for sick saints , if ANY among us are sick .  So, John is not addressing sin leading merely to physical death . We are not being told to omit prayer for Christians who have become physically ill or wounded ! Neither is John being redundant, for it is obvious that all must die physically .  But we must discern between soul and spirit :
Heb 4: 12
12 For the word of God is living and powerful, and sharper than any two-edged sword, piercing even to the division of soul and spirit, and of joints and marrow, and is a discerner of the thoughts and intents of the heart.
Consider 2 Pet 2 : 20 – 21 :
20 For if after they have escaped the pollutions of the world through the knowledge of the Lord and Saviour Jesus Christ, they are again entangled therein, and overcome, the latter end is worse with them than the beginning.
21 For it had been better for them not to have known the way of righteousness, than, after they have known it, to turn from the holy commandment delivered unto them.
( Hint : Holy commandment = the Great Commandment of Matt 22  !  )
See ?  The one who knew Jesus but is overcome to quit Him in their heart and return to the worship of sin is worse off than before .  Why ? Because he is now irredeemable . We need adequate understanding of Hamartiology , the study of sin , to differentiate between types of sin !  At least the lost are generally redeemable .  Not so the ex – christian who has destroyed for himself the effectiveness of the Blood of Christ , losing salvation .  The Blood no longer applies to one who has profaned it from the heart .  It almost happened to me , through ignorance .  I will never forget the horror .  And the sense of having been let down by many teachers …
Lastly, consider John 15:1 – 6 :
15 "I am the true vine, and My Father is the vinedresser. 2 Every branch in Me that does not bear fruit He takes away ; and every branch that bears fruit He prunes, that it may bear more fruit. 3 You are already clean because of the word which I have spoken to you. 4 Abide in Me, and I in you. As the branch cannot bear fruit of itself, unless it abides in the vine, neither can you, unless you abide in Me.
5 "I am the vine, you are the branches. He who abides in Me, and I in him, bears much fruit; for without Me you can do nothing. 6 If anyone does not abide in Me, he is cast out as a branch and is withered; and they gather them and throw them into the fire, and they are burned.
Notice that the fruitless branch is both picked up AND carried away , for the fire does NOT occupy the same place as the True Vine and His abiding branches laden with fruit !  God does NOT burn the fruitful branch !  And a branch still attached would NOT wither !  Some need to examine the Greek text without bias .  See  This Post Here  for discerning discussion about Satanic Deception on the Allegory of the Vine and Branches .  From one who almost burned !
The Fruitless Branch will be Losing Salvation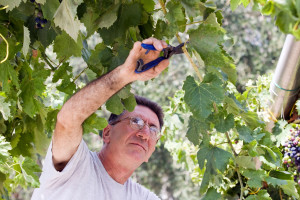 Therefore :
1 )  The Christian branch that abides in Christ bears fruit .
2 )  The Christian branch that does not bear fruit is taken away by the husbandman ( Father God ) , withers , and is burned .
3 )  Thus , the fruitless branch chose not to abide in Christ , losing salvation .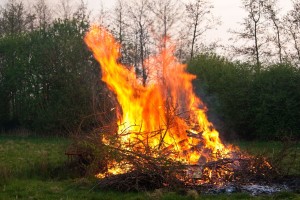 We . Brothers . Branches .  Christians ONLY !  For , what concord has Christ with Belial ?  See 2 Cor 6: 14 – 16 :
14 Be ye not unequally yoked together with unbelievers: for what fellowship hath righteousness with unrighteousness? and what communion hath light with darkness?
15 And what concord hath Christ with Belial? or what part hath he that believeth with an infidel?
16 And what agreement hath the temple of God with idols? for ye are the temple of the living God; as God hath said, I will dwell in them, and walk in them; and I will be their God, and they shall be my people.
See, this is why Christ commands to abide !  Because we have free wills ! Salvation is not compulsory after conversion, and Christians do not lose free wills after conversion !  There would be no need to command robotic automatons to warn them of potential consequences of losing salvation . Even for Christians , the notion of God sovereignly compelling human will to make correct moral choices flies in the face of the fact that we are made in God's image ; for if His image means a controlled , compelled , subjugated  " free " will , then who is above God to compel HIS will !?!?!?  God has free will to do anything He desires . It will always be good ; It was Lucifer who created sin !  The devil wants freedom of possibility . Choosing evil does not tend toward freedom …
The Once Saved, Always Saved , Hyper – Grace crowd need to carefully consider that no scripture negates the free human will . The Irrelevance of Common OSAS Rationales  make plain that we must willfully abide in Christ.  Then we have plenty of scriptures that assure salvation for the continuously abiding one who willfully avoids killing levels of sin !  I choose to blatantly and deliberately abide in Christ !   Please explore more of this blog for an understanding of what comprises killing sin ;  It is now my obligation to protect my brothers and sisters  !
.