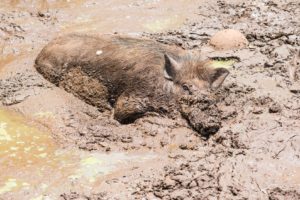 The Apostle Peter has written one of the most impactful statements about the potential loss of salvation in the whole Bible .  And from where I have been , my eyes are wide open these days .
To appreciate what Peter is talking about in 2 Pet 2 : 18 – 22 , consider what it means to be overcome .  
Peter is addressing the issue of false teachers bringing heresy to the church .
18 For when they speak great swelling words of emptiness, they allure through the lusts of the flesh, through lewdness, the ones who have actually escaped  from those who live in error. 19 While they promise them liberty, they themselves are slaves of corruption; for by whom a person is overcome, by him also he is brought into bondage. 20 For if, after they have escaped the pollutions of the world through the knowledge of the Lord and Savior Jesus Christ, they are again entangled in them and overcome, the latter end is worse for them than the beginning. 21 For it would have been better for them not to have known the way of righteousness, than having known it, to turn from the holy commandment delivered to them.22 But it has happened to them according to the true proverb: "A dog returns to his own vomit,"  and, "a sow, having washed, to her wallowing in the mire."
Salvation Overcome by a Heart Catastrophe
Here, the servants of corruption overcome saints who had escaped those living in error , bringing them into bondage to corruption .  After escaping the pollutions of the world by knowing Christ , these saints  are entangled AND overcome by the pollutions of the world once again .  In bondage to corruption and pollution .
That this outcome is worse for them than the beginning needs a close look .  Christian, what were you in the beginning , before knowing Christ  ?  You were lost .  That was the beginning .  What is worse than this beginning ?  Worse than lost ?  It is to be irredeemable as satan is .  At least the lost are generally redeemable  !!
They knew the way of righteousness, but turned from it .  Turned from the holy commandment .  James calls it the royal law :
Consider James 2 : 8 :
8 If you really fulfill the royal law according to the Scripture, "You shall love your neighbor as yourself,"  you do well;
And what is the whole of this royal law ?
Consider Matt 22 : 36 – 40 :
36 "Teacher, which is the great commandment in the law?"
37 Jesus said to him, "'You shall love the Lord your God with all your heart, with all your soul, and with all your mind.'  38 This is the first and great commandment.39 And the second is like it: 'You shall love your neighbor as yourself.'  40 On these two commandments hang all the Law and the Prophets."
So, Peter tells us that a saint who turns from the royal law … holy commandment …  is like a dog returned to its own vomit ,  and a sow that had been cleansed returning to wallow in the mire .  This person once had a heart for God , but has forsaken God , overcome at heart in favor of corruption ; as though the Blood were nothing to desire !  Profaning the Blood , counting it as common !  At heart making corruption to be higher and more desirable than the Blood !  May it never be in the heart of any !
Let us compare this to what Jesus taught Peter about cleansing in John 13 : 8 – 10 :
8 Peter said to Him, "You shall never wash my feet!"
Jesus answered him, "If I do not wash you, you have no part with Me."
9 Simon Peter said to Him, "Lord, not my feet only, but also my hands and my head!"
10 Jesus said to him, "He who is bathed needs only to wash his feet, but is completely clean; and you are clean, but not all of you."
---
(  Judas was not clean . )
Got it ?  Peter was basically in the way of salvation for that time .  In John 15 : 3 , Christ prior to the cross told them they were " already clean because of the word which I have spoken to you ."  So, the foot washing was not symbolic for basic salvation, but for cleansing  minor , daily , garden – variety sin .  Daily maintenance , keeping short accounts with God !  As in 1 John 1 : 9  .
Yes , I belabor this point … for a reason !  The sow returning to mire is TOTALLY corrupt again , absolutely FILTHY , forsaking salvation and far beyond help !  Overcome at heart !
Is Faith Magic ?
Consider 1 John 5 : 4 – 5
.
4 For whatever is born of God overcomes the world. And this is the victory that has overcome the world—our  faith. 5 Who is he who overcomes the world, but he who believes that Jesus is the Son of God?
Remember that just believing is NOT enough !  See James 2 : 19 !
19 You believe that there is one God. You do well. Even the demons believe—and tremble!
Even satan believes who Jesus is !  See also Matt 8 : 28 – 29 .
Consider Col 1 : 21 – 23
21 And you, who once were alienated and enemies in your mind by wicked works, yet now He has reconciled 22 in the body of His flesh through death, to present you holy, and blameless, and above reproach in His sight— 23 if indeed you continue in the faith, grounded and steadfast, and are not moved away from the hope of the gospel which you heard, which was preached to every creature under heaven, of which I, Paul, became a minister.
Consider 1 Thes 3: 4 – 6
4 For, in fact, we told you before when we were with you that we would suffer tribulation, just as it happened, and you know. 5 For this reason, when I could no longer endure it, I sent to know your faith, lest by some means the tempter had tempted you, and our labor might be in vain.
Consider 1 Tim 1 : 18 – 20
.
18 This charge I commit to you, son Timothy, according to the prophecies previously made concerning you, that by them you may wage the good warfare,19 having faith and a good conscience, which some having rejected, concerning the faith have suffered shipwreck, 20 of whom are Hymenaeus and Alexander, whom I delivered to Satan that they may learn not to blaspheme.
Consider 2 Tim 2 : 16 – 18
.
16 But shun profane and vain babblings: for they will increase unto more ungodliness.
17 And their word will eat as doth a canker: of whom is Hymenaeus and Philetus;
18 Who concerning the truth have erred, saying that the resurrection is past already; and overthrow the faith of some.
See 1 Tim 4: 1 – 2 ;
 .
.
4 Now the Spirit expressly says that in latter times some will depart from the faith, giving heed to deceiving spirits and doctrines of demons, 2 speaking lies in hypocrisy, having their own conscience seared with a hot iron,
You cannot depart from a faith you never had !  Keep the faith !
Faith is not magic .  It must be maintained . Make your election sure .  Abide in Christ . Remain in Christ's love . Do not wander from the truth . Do not turn from the holy commandment , or move away from the hope of the gospel which you heard . And forgive by faith , too .  Forgive others, God , though he is Holy , and yourself, if necessary .  Salvation needs to be maintained by avoiding killing sin !
One Final Word From Peter :
2 Peter 3 : 17
17 You therefore, beloved, since you know this beforehand, beware lest you also fall from your own steadfastness, being led away with the error of the wicked;
He had just talked about that error in 2 Pet 2 : 18 !
Maranatha , Brothers and Sisters !  Keep salvation !