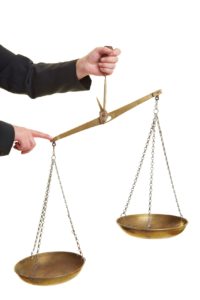 From a recent exchange I had on Twitter judging me :
Him :   False teacher alert  ( A Brother's notification he placed on my Twitter account ).
Me :   Have you read my blog ? Try reading it before judging . From where I have been, I know too well what I am talking about . I was under informed , too.
Him :   Feeling guilty eh lol anyone that believes they can lose their salvation IS NOT saved in the first place. 'Believe on the Lord Jesus Christ and thou shalt be saved' refute that!
Well, let's talk about a few things … judging and judgment and salvation …
I have no idea why ANY Christian would want to refute Acts 16:31 :
Acts 16:31
King James Version (KJV)
31 And they said, Believe on the Lord Jesus Christ, and thou shalt be saved, and thy house.
We know this is a famous " gateway verse " to initiate salvation .  But we have to be more circumspect with scripture .  After all, if I wanted to stand on just this one verse, I could argue that my own saving faith in Christ would automatically save my family members as well, without them having to come to their OWN saving faith !  Now, THAT would be twisting things !!!
The Enemy LOVES for Christians to Neglect the Word !
No, I would look at other verses to get a good understanding from multiple angles … because of scriptures like this :
James 2:19
King James Version (KJV)
19 Thou believest that there is one God; thou doest well: the devils also believe, and tremble.
After all, the demons failed to keep Jesus in the grave , right ?  They know who He is .  In fact , they knew this before the crucifixion :
Matthew 8:29
King James Version (KJV)
29 And, behold, they cried out, saying, What have we to do with thee, Jesus, thou Son of God? art thou come hither to torment us before the time?
And so, it becomes obvious that I must do more than just believe in order to distinguish myself from the devil and his demons .  How about confession, repentance, and abiding , just for a framework ?
Romans 10:10
King James Version (KJV)
10 For with the heart man believeth unto righteousness; and with the mouth confession is made unto salvation.
I must confess the correct identity of Jesus , and that I receive Him believing His offer is true and valid .
And :
1 John 1:9
King James Version (KJV)
9 If we confess our sins, he is faithful and just to forgive us our sins, and to cleanse us from all unrighteousness.
 So, this is a good framework to initiate salvation if we have the right identity of Jesus in mind, i.e. born of a virgin , God incarnate , etc.
Salvation is a precious gift , and God Himself the  Most Precious Gift .  But we must abide in Him as Christ commands , for it is the will of the Father :
John 15:4
King James Version (KJV)
4 Abide in me, and I in you. As the branch cannot bear fruit of itself, except it abide in the vine; no more can ye, except ye abide in me.
And :
Matthew 7:21
King James Version (KJV)
21 Not every one that saith unto me, Lord, Lord, shall enter into the kingdom of heaven; but he that doeth the will of my Father which is in heaven.
So, it is the Father's will for us to get in Christ and STAY in Christ , unlike those addressed in Matt 7:21-23 who were religious but never knew Christ .
Judgment rather than Judging !
Thus, a more circumspect understanding of scripture will acknowledge that salvation is a gift that can be abused and  by some forsaken, even rejected by the offended saint , or by the saint who quits Christ for carnality instead as in 2 Pet 2:20-21 .  For it is " WE " being addressed in Heb 10: 26 – 31 , BRETHREN being addressed in James 5: 19 – 20 , and him that RECEIVED the WORD ( Jesus ) joyfully in Matt 13 :20 – 21 who Quit Christ .  This is better judgment .
Moreover , it is the branch IN ME ( in Christ ) that became fruitless and was pruned by the Father and thrown into fire in John 15: 1 – 9 .  Please , someone explain to me how anybody in Christ was never saved to begin with ?  What concord hath Christ with Belial  2 Cor 6: 15 ?
And the book of Hebrews was written to the twelve tribes of Israel, yes … at a time when there were both Christian and non – Christian Hebrews !  And now, in Christ there is neither  Jew nor Greek, male or female …  so the warnings of Hebrews 6 and 10 are for the church !
As for my Twitter brother judging that I was never saved … well , please pray for me folks .  For I surely do NOT want our Beloved Father to lose even one child .  Including me , though I have the Spirit !  Maranatha my brothers and sisters !